​Your brain's brain (the cerebellum) gives you the ability to develop skills focus, stay calm and on top. If you feel overwhelmed, anxious, unfocused and lack performance, you need individual physical exercises to stimulate your skill learning centre and free up space in your working memory. No brain game or mental effort will do that. Question is: how can you reactivate your brain? We have found a key that worked for us.
Silverhøj kids enjoying life in the pool
​How did we hear about the Cerebellum?
When we travelled in Southern Europe, Spring 2017, one of our biggest challenges was to find a trust within ourselves that our children learned enough. They had just been taken out of school again for the 14 weeks of travelling. We had bought 20 educational books and a lot of literature. We were creating a logbook and we really tried to have "school" on daily basis. None of us liked it and the kids refused to sit with the books some days.
We tried to trust and relax into our knowing that the experiences we had on our journey would help the children thrive. We​ also consciously integrated subjects such as math, geography, languages etc. into our daily experiences. We prayed it would be enough. But since it was such a different lifestyle than sitting and learning with books at school about the world, we felt insecure at times.
With time we relaxed more and more into it, and let go of the schoolbooks. We could see how the kids were thriving and were asking into things when they were open to learn something. Nowadays, we have learned that their curiosity and wish to learn is always the key for us to bring in some wisdom and facts to them. And we are blown away on daily basis of how much they know, even if we do not know how they have learned it!
When we arrived in Alicante to visit our friends Eva and Steinar Ditlefsen, we were invited to attend their amazing event. It is called European Transformational Teachers Gathering, which they run every year (can totally recommend it).
Anyway, at this event there were speakers and trainers from all round the world both participating and presenting.
One man on the stage brought tears to my eyes when he spoke about his daughters learning difficulties. He also spoke about how he therefore have dedicated over 20 years to help children (and adults) who struggles with learning, focus and reading and writing.
My heart told me; he really have found something I need to know more about, and we need to get this out in the world. This is huge!
Hugs of Gratitude – Oliver Silverhøj and Wynford Dore, Tabarca Island, Spain
Who is he and what does he do?
He has been doing research about the brain and working with scientists from all around the world to find the keys to learning. The key is activating those parts of the brain in charge of the learning. His name is Wynford Dore.
"I invented brain stimulating exercises based on neuroscience in desperation to teach my depressed daughter to read for the first time at the age of 27. Since I succeeded in 1999, thousands of children who struggled with reading, concentration, writing and confidence improved their skills through my research. My original programme was featured in Trevor McDonald's documentary and in "60 minutes" because of how this system changes people's life. I have seen children overcome obsessive behaviour and concentration issues (check the testimonials). Imagine what withZING brain development programme can do for you and your family".
He have found the key to support these following challenges most of us have:
How often have you made a decision and done the opposite?
Decided to lose weight and then bury your good intentions in chocolate 7 days later?
Wanted to be a patient parent and ended up shouting more often than you want to admit?
Have mood swings like a yo-yo?
Gets anxious, jealous or overwhelmed for no reason?
Forgets the car keys?
Been really struggling when teachers call your child "lazy", "slow" or "bad". ​Poor behaviour and learning is often a sign of overload in a brain. Not less intelligence. What that brain needs is stimulation. Not criticism, isolation or labels.
If you or your child is scared and anxious of riding a bike or swimming – that often means you have low activity in cerebellum.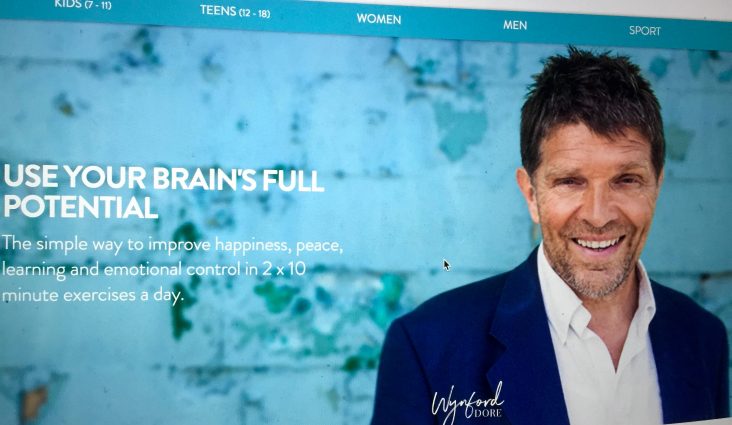 the front page of the with zing program
How can you reactivate Cerebellum​?
Your brain's brain (the cerebellum) gives you the ability to develop skills focus, stay calm and on top.
If you feel overwhelmed, anxious, unfocused and lack performance, you need individual physical exercises to stimulate your skill learning centre. You also need to free up space in your working memory. No brain game or mental effort will do that.
The "Brain's brain", the cerebellum, is responsible for the automation of fundamental skills. These skills include visual and auditory processing, spatial awareness, verbal, and social interaction.
When the automation of basic skills is not fully developed simple tasks have to be undertaken by the working memory. This is the part of the brain responsible for processing information and automaticity of skills. When it becomes overloaded, you can experience increased stress and reduced performance.
How can we optimize the cerebellum?
Wynford Dore and Dr. Amen discussed that in a podcast and came with the following suggestions:
Brain training programs do not create stimulation – instead reduce screen time
Climb, jump, jump on trampoline, dance ballet, play racket sports, dance – increase exercise and balance
Not every sport activates every part of the brain – but every exercise will make a difference – dozing in front of a screen will not…
Any exercise including: jumping, spinning, standing on one leg – especially with eyes closed – will force rewiring and stimulating your brain.
Wynford Dore has also developed a program called withZING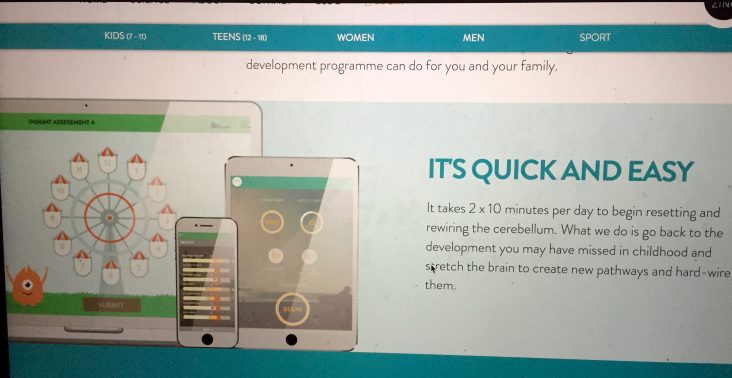 with zing can be used on computer, phone or tablet
​What is the with Zing program?
The With Zing Program activates the cerebellum through engaging the whole body in a series of exercises that stimulate the balance systems. When the cerebellum is fully functional, learning becomes simpler, cognitive skills improve, and emotional wellbeing increases.
With Zing is an intelligent online system to test your brain and tailor daily physical exercises to you. Based on your performance the system adjusts the exercises so that you work on finding your full potential.
The cerebellum controls your ability to learn new skills effortlessly, decision making, emotional control, focus and memory. All the things you (and your children) might struggle with right now, withZING supports with the root cause.
If you are an athlete, imagine if brain development gave you the edge, catapulted you into the zone and kept you there. The latest research shows how you can upgrade your brain. Wynford and his team have worked hard to create this program that takes 10 minutes twice a day and incorporates all we know of the exciting research that's out there.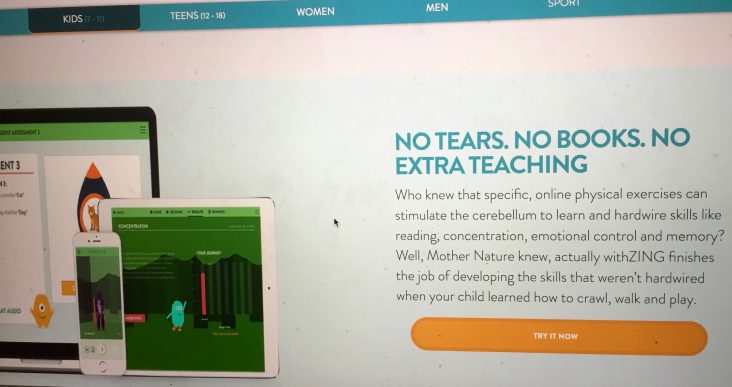 kids program with zing
​What is our experience with ​with Zing?
Our whole family jumped on and did this program for 6 months after we first met Wynford in Alicante. We were doing the daily exercises together which helped us all to do them… which can be a challenge.
All of us have had huge shifts in how we function in our daily life. Each month you do an assessment to find out how much more of your potential you are using.
Just to mention a few shifts: Oliver – who have been a slow reader – now reads much faster. Susana's biggest transformation is that I do not get as overwhelmed and stressed as before. I can stay focused and calm for much greater time. Interestingly, Hugo and Ellice are much more like Susana and we could see on the monthly assessments ("tests") that we have the same activations needed in our brains. Our working memory had a very low score in the beginning and it has gone up for all of us. Theo is much like his father and his reading has also improved a lot.
We did another assessment a year after finishing the program and the results remain.
​After the program we also did traditional educational tests ("national tests") that they have in Denmark, to see how our children were doing in Math, Danish and English. Again, since we have not studied with them "traditionally", we wanted to know how they were doing. All three children top scored the demo test several grades over their own level. We have no clue how that is possible, but confirms that the traditional education system is not up to date! Learning is so much more efficient and fun when the children can be curious, passionate and experience what they want to learn about, instead of sitting in a room with too many other children with books. You might also want to read the post about how we got to world school our children and my mission of a new educational system here.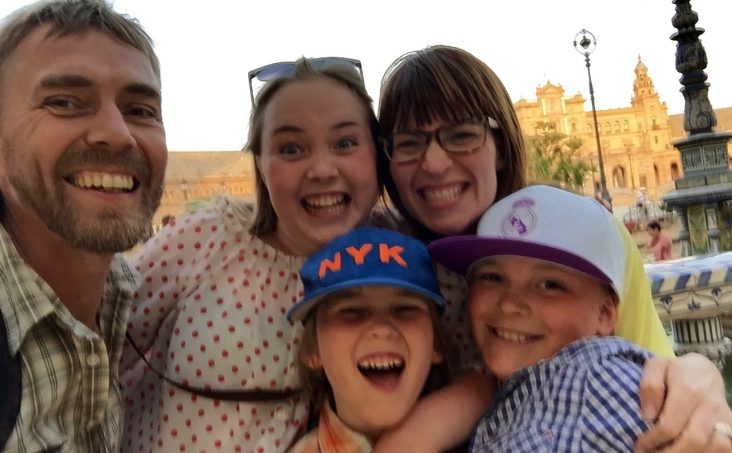 Goofy Silverhøj Family, Seville Spain
​Conclusion
​I feel so blessed and grateful for the with Zing program, that really have lit up our brains and our lives. And I feel very confident to say it has helped our children to learn easier and more effortless.
I have therefore become an affiliate for with zing to promote this great program. I wish every being would have the opportunity to use this program, or at least, start to do daily balance and exercises as suggested above.
With Zing is a life changer and really support the world to Thrive. If you are interested to know more or to sign up for the program please click this with Zing link and/or share your experiences in the comment field below!