Most of Koh Ta Kiev's quiet charm and paradise feel comes from the island's lack of development. That seems like a blessing, rather than a curse—until you run out of supplies.
There are a few necessities that you won't be able to find once you get to the Koh Ta Kiev island. And if you are anything like us who booked 2 nights and decided to stay 3 weeks, we recommend you overdo it rather than pack minimum. There are things you will need to know and might want to bring to the island before you go.
This is a list of the things we wish we knew before coming here: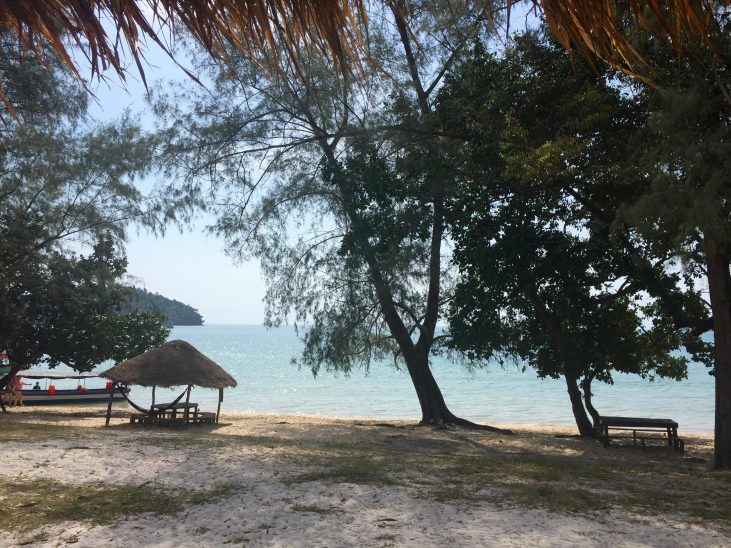 Long Beach at Koh Ta Kiev, Cambodia
A ​Paradise Island´s Pros and Cons
The lack of shops means that your peaceful stay at the island will not be interrupted by beach vendors. You know, those asking if you want to buy a bracelet or get a pedicure while trying to upsale you by criticizing your hairy legs in the attempt to make you try a leg threading…
​Or being interruped by the noise of cars. There are no cars on the island.
The downside is that you can't just stop by a store for a snack or a pair of flip-flops.But there are solutions to everything, right?
What we did a couple of times was that we took a daytrip into Sihanoukville and stocked up on some food and snacks (as after a week or so you kind of get tired of the 4-5 restaurants around… We went in with the Ten103 boat at 9.30 am and back with the Cactus boat at 5pm. But if you do want to avoid having to do that, this post is for you!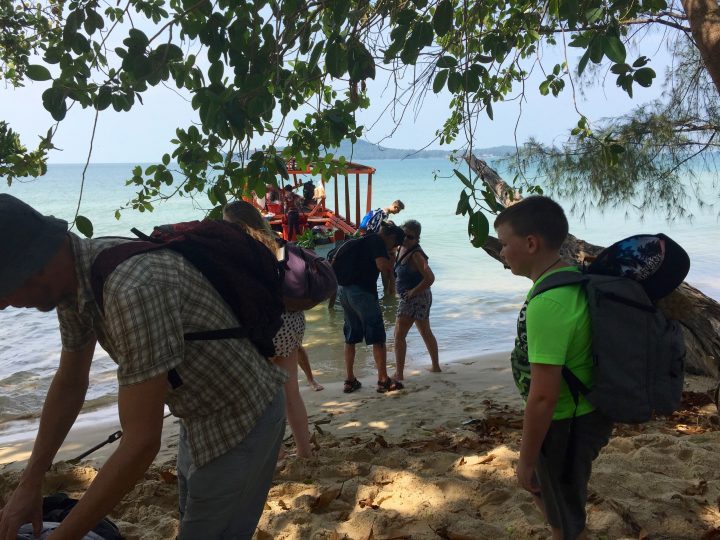 Arriving on Koh Ta Kiev
​Good to know before you leave:
Before you book your hostel/bungalow – see if they have a direct boat, when it leaves the mainland and from where. We have met so many people now at Long Beach not prepared to walk on the beach for 10-30 min with their luggage to get to the place they booked to stay. Most places do have their own boatservice though, leaving once a day.
There are no functioning piers on this island, so the boat will anchor close to the shore and you will have to walk in the ocean to get on and off the boat. With your luggage… Although, the friendly boatmen will help you with the luggage on and off the boat if you need help.
Few places have private bathrooms – and since there is no public water you get it from a barrel. Few places have electricity all day. So do your research so you can cover most of your needs.
Koh Ta Kiev has no electricity grid, and so the island's resorts draw most of their power through solar panels or generators that are switched on only at certain times in the evening. There are charging points where people can plug in their phones, tablets and camera batteries, but these are also usually available only at specific hours.
Medical care. While there are no doctors on the island, most guesthouses have simple medical kits and staff who are trained in basic first aid. An emergency speed-boat medevac to the mainland can be had for approximately $100. Find out more about medical care on the island.
Our Bungalow at Koh Ta Kiev, Cambodia
​What to bring:
Money. As with all the Cambodian islands, there are no ATMs, banks, or even card machines anywhere to be found on Koh Ta Kiev. Ensure that you have enough cash with you to pay for your boat, food, accommodation, and any activities for the entire duration of your stay. You can use $, but not Euro as we saw some Europeans tried to pay with
Buy a sim-card and a bunch of refill mobile data cards if you want to connect to the outer world, as there is not wi-fi on the island. The best (only) connection is with Smart.Here is how it works:
If you buy it in the official Smart store (Sihanoukville or elsewhere), then it costs $2 and they will help you install the card and make sure you are connected to the best data-plan for your needs. ThomMorng is the plan giving the most data for your dollar – a $1 top up card lasts a week and gives you 5GB on this plan. If you buy your simcard with a local shop then they will most likely not know how to do this and you will end up with 1GB for $1 instead…
Bring a flashlight and extra batteries for dark evening walks home.
Sunscreen and after sun/aloe vera lotion.
Mosquito repellent
Coconut oil (to keep away sandflies, they are only on the beach where Kactus resort is as we know),
Also, stock up on anything else you may require, including some toilet paper, shampoo, earplugs, and maybe condoms? Although, you can buy toilet paper at most places for $0.5 per roll.
Bring a beach towel or a sarong is a good idea.
So is preparing for the unexpected when it comes to the weather. The island has its own microclimate, so sometimes the beaches get rocked by unseasonal storms and the nights can get quite chilly. Better to bring a few warm clothes than to spend your island time shivering. And most guesthouses offer luggage storage facilities for a small fee if you choose a hammock.
A camera, waterproof if you have one, as you will be surrounded by water…
Some entertainment for long, lazy afternoons. Grab a book from the Idle Hour bookstore in Otres 1 before you head to the island or download your favorite books on your e-reader. We downloaded Outlander – book 5-8 gave me over 7000 pages to plow through….
Pick up a pack of cards and maybe download those new podcasts or albums to listen to as you wander through the jungle or lay in the hammock.
Make sure to bring snacks if you like snacks and do not want to eat out all the time. Just make sure all packages are fully sealed, and maybe can be hung up or put in hardcover luggage, to prevent island critters from sniffing out the goodies and getting to them before you do. In Sihanoukville we found muesli and soy/rice-milk plus other snacks in the two expat oriented supermarkets Samodera and Orange (conveniently close to the Smart store and the market where you can buy fresh fruits and veggies).
Bring a small first aid kit, painkillers, and any other essential medications, plus stick-on bandages and antiseptic and antibiotic ointment in case of any minor cuts and scrapes..
If you are picky like us, bring your own sheets as the ones here are in polyester, which we are not huge fans of. Also if you sleep in a tent or hammock a travel sheet is nice to have. We brought our duvet covers to crawl into, but you can also get a lightweight and easy to use travel sheet from Cocoon, here.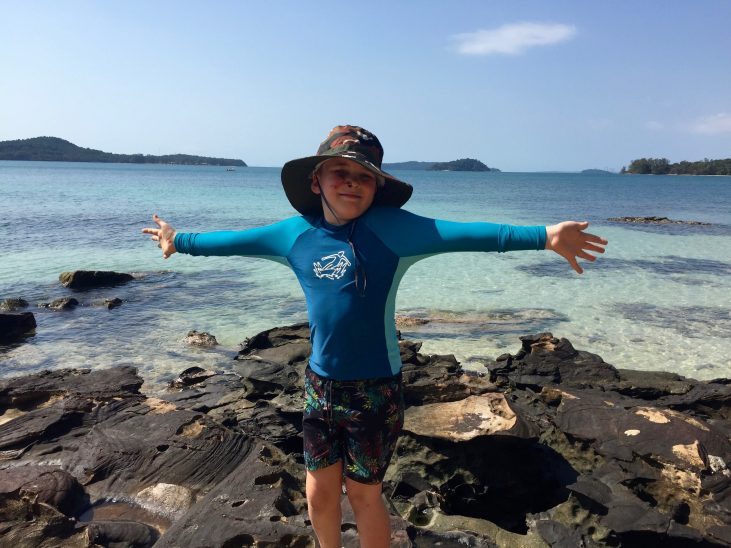 Hugo embracing paradise
​Conclusion
These are maybe the least "normal stuff" to consider when going to the Cambodian island Koh Ta Kiev, and maybe even some of the other islands. You can also read more of what to pack on a Tropical trip here.
As we say all the time while enjoying the view here in paradise, you realize how little you need and how fast you can adjust to living a very simple life.
And also how luxurious flushing a toilet without using a scoop will be when we head back to mainland….
Great learning and experience for the whole family and so, so worth it!
If you have any questions or tips on what you bring when you camp or travel in undeveloped places, please share it with us in the comments below!