​When you search about what to consider when using the HatLek/ChamYeam bordercrossing, going from Thailand into Cambodia there are some horror stories out there for sure. We did our research before – always to be recommended – and had a good experience. Maybe we were lucky, but nothing strange happened. So what do you need to know to increase your chances of a good crossing? And when in Cambodia, what can you do nearby?
Tuk-tuk tour in Koh Kong, Cambodia
​5 things to look out for:
We crossed the border at Hat Lek / Cham Yeam (Koh Kong).
There is a lot of corruption going on in the customs. The fee for visas on site is $30/person. Also for children. But from what we read they will find reasons to increase that fee – even double it – where they put the money in their own pocket.
Here are 5 things to look out for:
Touts might want you to do a health check and charge you for that before going to the visa/immigration building. That is not necessary. Say kindly no and move on to the immigration building.
Men coming up to you might say they will have to fill out the arrival/departure card for you and then charge you for that. The forms are easy to fill out yourself. Say no thank you.
At the Visa Application window itself they might want to add extra fees, beyond the visa cost of $30. This can be negotiated down or maybe even avoided if you have the patience to hang out for a while.
A tuk-tuk to Koh Kong center should not cost more than 400 baht, or 500 for a large car.
If someone offers to carry your bags they will charge you for it afterwards. So if you do not need help, say no thank you.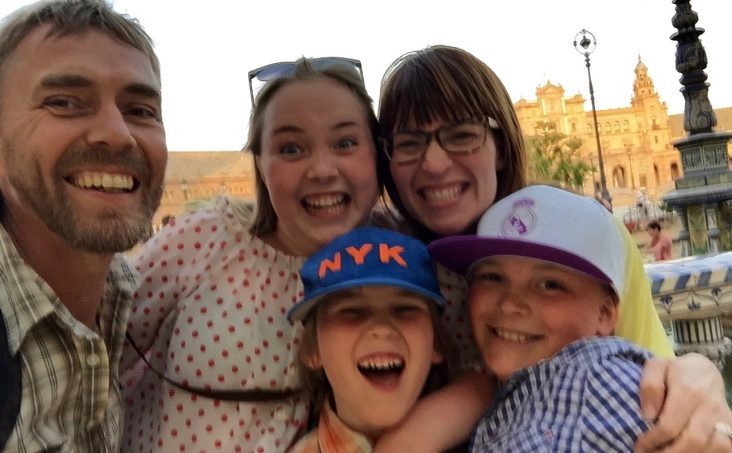 Goofy Silverhøj Family, Seville Spain
​Easy Visa precedure
Best way to avoid it is to get a Cambodian e-visa online. It takes 1-3 working days to receive and will cost you $36. But at least you will not pay anything by the border.
Make sure you have electronic passport photos on your device before you leave home as well as physical passport photos for crossing borders. The electronic ones for e-visas, and 2 physical ones for applying at the border.
You will need to print 2 copies of each e-visa and show them at the border.
You can apply for e-visa to Cambodia here.
You have 3 months to enter and after arrival the visa is valid for a month.
One thing that might have done a difference in travelling as a family is that we put the kids in front of is in the line. Oliver filled out all the arrival forms. Having the children handing in their 2 copies of the e-visas, arrival form and their passport first, they couldn't start to ask for more money either, could they? Then when it was the adult's turn, the procedure had to be the same. Just a theory. Or maybe we were just lucky to get a non- corrupt custom staff?
Either way, it was easy, with our bags close to us and standing closely together they didn't stand a chance to get extra money from us. We did see many travelling alone who paid for all sorts of things though.
Stay firm, kind and confident in your no´s.
Cardamom mountain view, Koh Kong, Cambodia
​Check out Koh Kong before moving on
Although, I have to say that so far I feel verysafe in Cambodia. The people are friendly and it doesn't feel violent or having a lot of crime. From what we have heard Thailand is the safest, but Cambodia is also a pretty safe country to travel in.
What can you do close to the Hat Lek / Cham Yeam border before moving on?
Many travellers do not take time to explore Koh Kong, which is a shame. Most get on a bus to Sihanoukville or some other location directly.
Eco-tourism is growing in Koh Kong and it have so much to offer. And just as eco-tourism is taking off, businesses may soon have to deal with major threats from a different sort of development. Like much of Cambodia, Koh Kong faces serious challenges as the government sells off land, including parcels of national parks, to private developers. Several Chinese-built dams have been proposed or are under construction along Koh Kong's rivers.
So go before it is too late for relatively untouched nature.
You can read more about Koh Kong and the eco-tourism here.
​Please, Share your tips and tricks when it comes to border crossing with us in the comments below!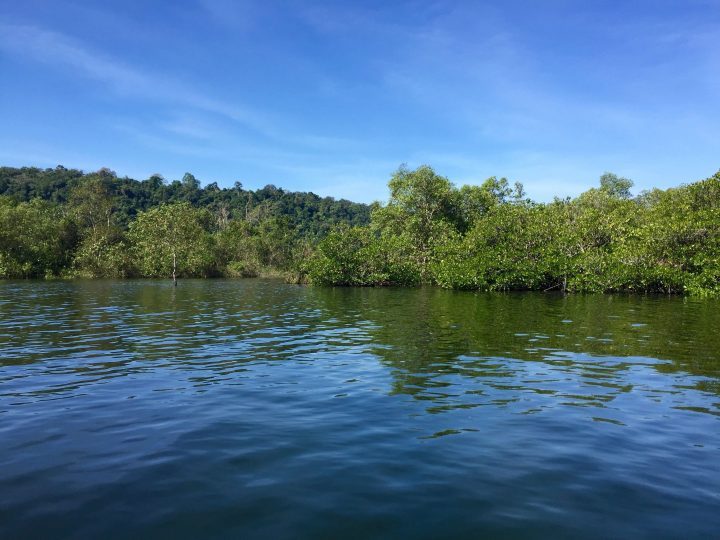 Mangroves in the river of Koh Kong, Cambodia