Many travellers do not take time to explore Koh Kong, which is a shame. Most get on a bus to Sihanoukville or some other location directly.
Eco-tourism is growing in Koh Kong and it have so much to offer. And just as eco-tourism is taking off, businesses may soon have to deal with major threats from a different sort of development. Like much of Cambodia, Koh Kong faces serious challenges as the government sells off land, including parcels of national parks, to private developers. Several Chinese-built dams have been proposed or are under construction along Koh Kong's rivers.
So go before it is too late for relatively untouched nature.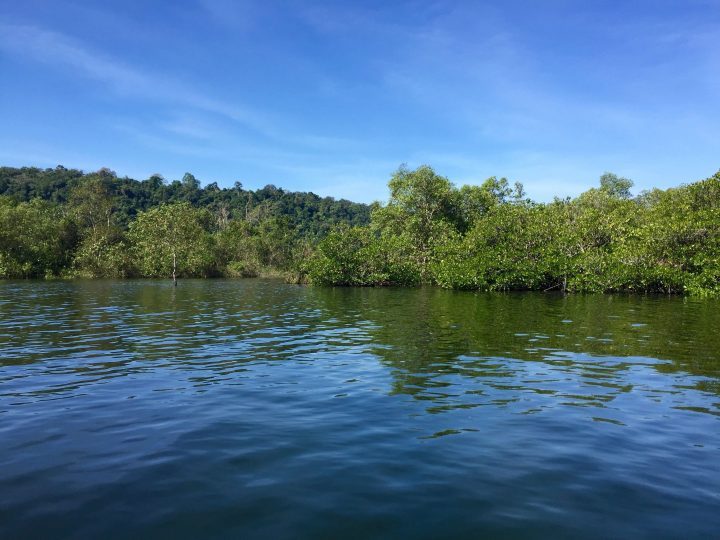 Mangroves in the river of Koh Kong, Cambodia
​Eco-Experiences
Koh Kong province is ripe for eco-tourism but is still, in many ways, a comparatively new, unspoiled and very lightly touristed destination. The area offers primarily natural wonders – the coastal mangrove forests, the heavily jungled Cardamom Mountain, range and rugged rivers, and secluded coastal and island beaches to the south.
Some of the more popular activities include excursions to the nearby waterfalls and mangrove forests, boat trips to the Koh Kong Island and jungle treks and camping as well as kayaking in the rivers.
Thanks to new accessibility, travelers are now discovering the area's awe-inspiring biodiversity, which includes one of Southeast Asia's largest tracts of virgin rain forest; some 60 threatened species, including the endangered Asian elephants, tigers, Siamese crocodiles and pileated gibbons; and a virtually untouched 12-island archipelago in the Gulf of Thailand, with sand beaches and crystal-clear aquamarine waters.
The cool part is that Koh Kong has been classified by the Wildlife Alliance as one of the world's top 25 biodiversity hot spots. The guided tours helps local projects and to sustain nature. Which is highly needed. There were so much plastic and trash floating around in the water and on the beaches. In the fishing village they just threw their trash out everywhere. Our kids suggested they should have a day a month to pick up trash or something to keep it nice….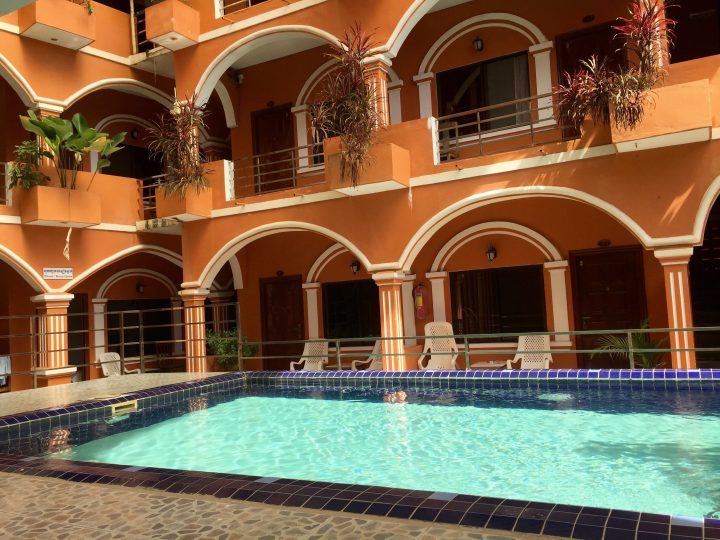 View from our hotelroom at Apex hotel in Koh Kong, Cambodia
​Where to stay in Koh Kong
We had 2 nights at the Apex hotel – which is a relatively new hotel with pool, which is quite luxurious for the price!
You can find the hotel, prices and availability on booking.com here​ or Agoda here.
The food was not great at the Apex hotel, but on the site or app "Happy Cow" (where to find vegetarian/vegan-friendly restaurants around the world site)– we found a brilliant French owned restaurant called "Wood House" just a few minutes walk from the hotel.
​Wood house had a delicious ginger tofu dish and the kids enjoyed the wood house burgers so they made us go there both nights for dinner…
​There are some pretty cool places for every taste and budget around. Janet Newman, originally from England, fell for Koh Kong while documenting the province's wildlife in 2005. Within three years, she had decided to stay for good, and opened the eco-friendly Rainbow Lodge. This is smack in the middle of the beautiful nature, outside Koh Kong and soooo many people have spoken well about the place, so if you want to stay in the nature, you might want to check her place out on booking.com or Agoda.
Ginger tofu at Wood house, Koh Kong, Cambodia
​Jungle Tours in Cardemom Mountain
The hotel sold guided eco-jungle day tours for $20 per person, which we had decided to go on, so went with that: Paddy's Bamboo Tour Koh Kong
They picked us up in the morning in a tuk-tuk taking us to a long-tail boat. After an hour+ into mangrove jungle waters we had a not too difficult hike up the Cardamom mountain to a stunning view over the landscape. Up there we swam in the waterfalls whilst the guides prepared lunch for us and then we relaxed before heading back down.
After 30 min on the boat we stopped in a little fishing village where we walked through to experience their lives. The kids felt we were intruding the villagers privacy, which we all could feel, so this part was not the best. But still fun to see how they live and work there.
We were back in the late afternoon at the hotel very happy and pleased. The kids just loooooovvvvveeedddddd the waterfalls. A big shoutout for the guides, they were doing a great job.
Other well-reviewed eco-tours can be done with Ritthy eco adventure tours
Waterfall swim in Cambodia
​On the road again…
The next day we went on the bus to Sihanoukville that picked us up on the corner of the hotel. The tickets were $8 per person, this was the cheapest site we found, to book online or you can buy it at the Apex Hotel, as it is the same owner as the bus Company.
The journey took around 5 hours. There were stops on the way to eat and go to the restroom. What happened then will be in the next post…
If you have had experiences ​of eco-tourism around the world or have any eco tips or have any questions – please share them in the comments below. Together we can make a difference!