Many roads lead to Cambodia from Bangkok. The five of us arrived in Bangkok tired and worn out after a 24 h trip without sleep. We thought we were going to Siam Reap directly, but realized that we needed some sun, beach and relaxation before we started hardcore travel experiences.
We decided to go slow and ended up having 3 stops before the Cambodian border in Hat Lek/Cham Yeam. Where did we stop and why? How did we get there that way and why? Let us go through stop by stop…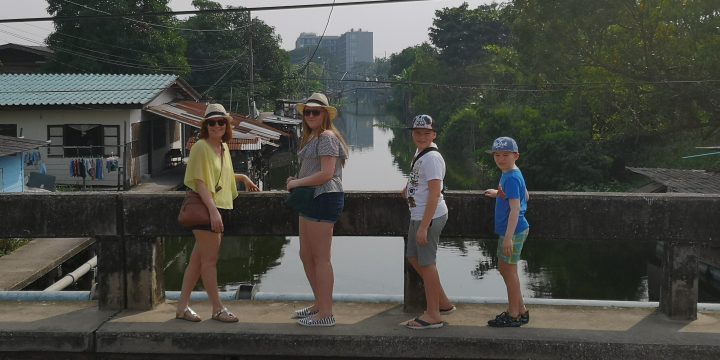 Bangkok suburbian stroll
Stop 1: Jet-lagged in Bangkok
After a long journey we needed to get the jetlag in place. We arrived at night so the first couple of nights we stayed at QG Resort, near the airport. The owner, who was a very friendly Frenchman, picked us up at the airport and we got a large family room. We have already booked our last night on our journey in April there too, since we were very pleased.
Clean, quiet (no noise from the nearby airport), newly built, A/C, fan, good food and service. Great value for the money! The area is not very nice or exiting and the swimming pool not very deep, but great for good sleep and jetlag recovery.
You can find the hotel, prices and availability on booking.com here or Agoda here.
We didn't wake up until noon the first day, so the day went by quickly with just a small walk in the area and a local fried rice lunch for 50 baht before it was time for dinner and sleep again. That night we hardly slept at all – any of us. I hate jetlag…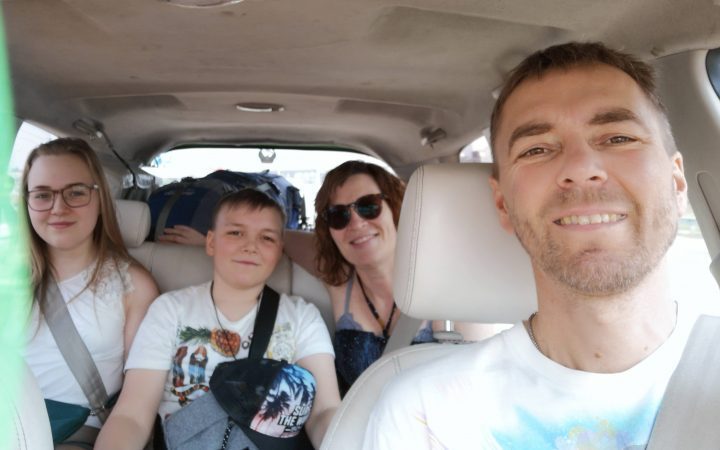 taxi from Bangkok going southeast
Travel from Bangkok to Koh Samet
The following morning we were picked up by a private taxi who took us to the pier in Rayong for 2000 baht ($60-ish). There are busses going there if you are on a low budget or less than 5 people. With 5 of us and all the hassle of going into Bangkok first to the bus station and then back SouthEast, we couldn't be bothered. It was a 2,5 h drive on new roads.
We are very impressed with how much Thailand has developed since we were there in 2007. In a good way.
We took the "ferry" out to Koh Samet Island. That island is the nearest "nice beaches without too much hysterical tourism" from Bangkok going to Cambodia, our host in Bangkok told us. Especially for us who these days are not good at the 'party party' life of backpackers.
To get tickets was an adventure in it self. You are bombarded with sales people trying to get you on their boats for more money than you should pay.
In our mind it felt larger and safer with a ferry than a speedboat so we went with that cheaper option. They charged 200 baht return tickets per person. Turns out that the "ferry" was just a small old wood boat that we had to try to lift our luggage into over the water…
On the way back we even had to walk through another "ferry" to get onto the ferry brining us back to mainland.
And it turns out that if we had bought one-way tickets, (which nobody wanted to sell) we could have bought a ticket to come back for 60 baht instead of 100, at the pier in Koh Samet.
But it was a nice 45 min boat ride, when we were on the boat. Not fancy or comfortable, but characteristic.
Koh Wai Beach – best beach on Koh Samet
​Stop 2:Koh Samet, sun and beach
As it was a last minute choice to go to Koh Samet the options for a great deal hotel was not great… But it turned out very well. Our host at 99 The Residence just had a cancellation and had put a room available only 30 min before we booked it. It almost felt as destiny going there. It was a small "town house" with two double beds and two sleeping sofas, a small outdoor kitchenette and bathroom for around $80/night. The owner was a super friendly Englishman who helped us with everything we needed.
You can find the hotel, prices and availability on booking.com here or Agoda here.
We had booked two nights but decided we wanted another night to experience the things we wanted peacefully.
We went to the national park that covers most of the island. The military charges adults 200 baht ($6-ish) to enter on a 5-day pass.
Imagine our surprise when we enter a national park that looks like a town! Stores, restaurants and hotels covers a long part of the beach area when you enter. Packed with tourists. Oh no….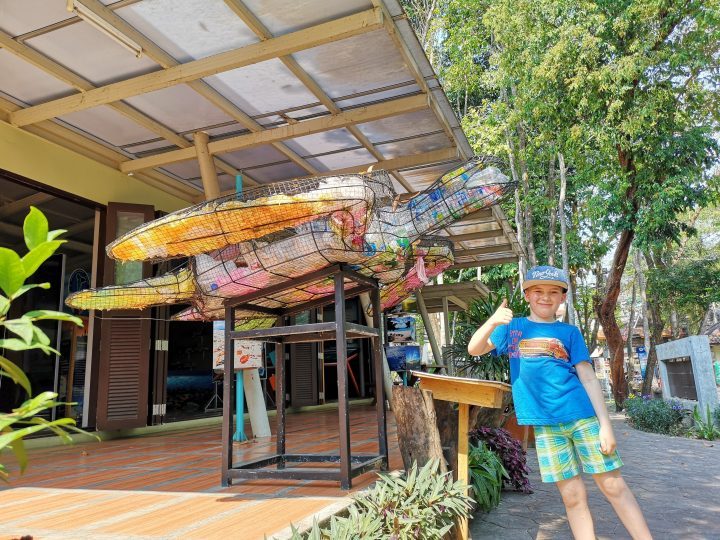 Plastic Art on Koh Samet, Thailand
Plastic Free future on Koh Samet
Then we saw the signs and art created to pay attention to the plastic. Turns out that Koh Samet does not have much trash laying around and that you are not allowed to bring plastic containers or bottles to the island. They still use it and there is some trash, but a great positive first step, right!?
We went to a local restaurant where they actually packed our food to go in paper and put it in a paper bag. And in another restaurant they served drinks with metal straws. YAY!
Our conscious hearts get so happy when we see small things like that. Normally you get "over plasticized" with plastic bags put in plastic bags with plastic straws everywhere in Thailand.
​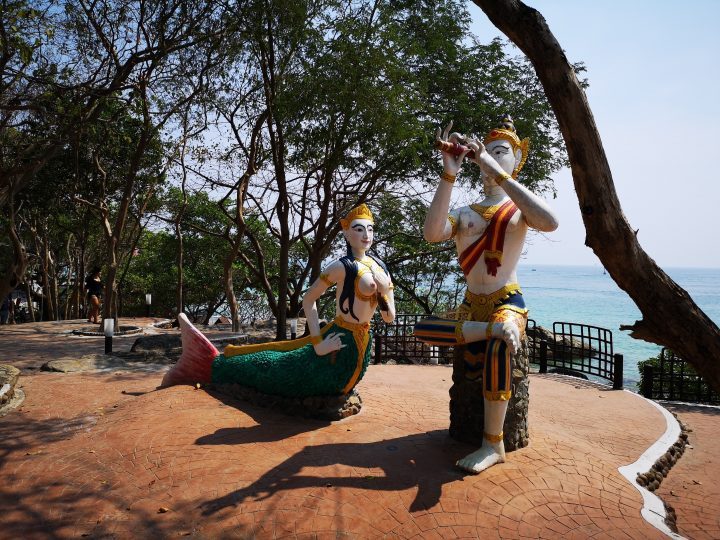 Mermaid art on Koh Samet, Thailand
​What to do and see in Koh Samet
The beaches were not very broad since a hurricane had hit Southern Thailand the week before had left higher water levels. On our last day, though we got to experience the normal sized beaches. And what beaches then! White soft sand and turquoise warm water…. Mmmmmm….. it was beautiful.
At Ao Hin Khok beach south of Hat Sai Kaew on Koh Samet you will find the statue of the mermaid and the prince. It is based on an old saga written by the Thai Poet Sunthorn Phu in the 19 th century. The story tells about a mermaid that saves a prince from drowning and she brings him to Koh Samet. The statue is located on a rocky outcrops on Hin Khok Beach. Just walk south from the national park entrance and you will find it.
Even if the island is small, it is not very walk friendly. A few kilometer takes a long time to walk for some reason and is not very enjoyable or to be recommended. Instead the taxis are easy, many and not very expensive. Taxis here are what they call a Song Thaew, which translates to Two Rows and literally is two rows of seats with cover, built on a pick up truck.
Our second afternoon we took a taxi for 200 baht and went to the west side for a sunset swim and dinner. Great food right on the lovely beach. I could feel my shoulders dropping more and more after a hectic couple of months.
On the third day we took a taxi for 400 baht to Koh Wei – one of the most beautiful beaches on the island. It has one resort but other than that it was jungle and trees all around.
Basically what they have done is that most of the island is a national park, where by the entrance most of it is happening. Besides that there are a few resorts here and there where the best beaches are, but mainly it is nature.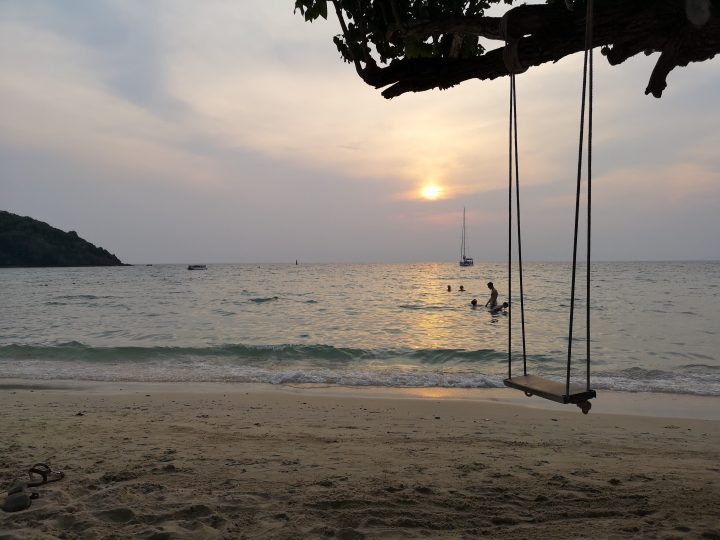 Sunset swim at Koh Samet, Thailand
​Following the flow
We were planning to leave the morning after and go to Koh Chang (elephant island), which is supposed to have beautiful beaches, waterfalls and nature. But something felt off. We spent the evening finding a place to stay and after a lot quite some searching we booked a bungalow on airbnb. A nagging feeling in my stomach kept bothering me. The whole night I felt I had a sore throat and ears – usually a sign that my body is telling me I am on the wrong path. In the morning I told Oliver that I wanted to stay at Koh Samet another night. He said yes since our otherwise prepaid booking on Koh Chang didn't go through.
That is the downside with airbnb – that you don't know if you actually get the place you book until the owner approves it. So we are not going to use airbnb for last minute things again. Turns out that the bungalow we booked were only for 2 people – not for 10 as it said on the site…
Our Koh Samet host had not put out vacancy for "our" place so it was no problem to stay. All in best flow. And my sore throat and ears vanished during the morning…. Once again I was reminded of how important it is to listen to the signs before the body start to ache… If we don't listen to your gut and small signs the universe will make the signs clearer and rougher. Kick your ass to say it mildly… 😉 So we might as well learn to listen to the small signs….
From that moment on I have really done my best to feel into my gut feeling before we make another move and take action.
View from Pop Guesthouse in Trat, Thailand
​Stop 3: Trat, an authentic Thai city experience
Back in Rayong on the mainland after 4 nights at Koh Samet, we found a shared minivan for 2000 baht taking us to Trat. We wanted our kids to get to experience a regular Thai city without many tourists. Trat used to be a gemstone city and was trading a lot with Cambodia. The French occupied it in 1700´s and you find a lot of trace of the French colony in the center – especially the old buildings. Trat has beautiful temples, a museum, a bustling night market with great food and is all in all totally worth a day of exploring. There are 8-9 spots to explore and can be done in a day without stress.
What we should have done is to start the opposite than we did and start with the Wat Buppharam temple. It is a large area with beautiful buildings and temples. The main temple is the oldest in Trat, from 1648 and the reason why many Thai's visit Trat these days.
It is 3 km outside the center of Trat. So either take a taxi out there and back or take the walk in the morning. We had to rush through it to not have to walk in total darkness on windy roads with crazy traffic.
Two nights at a simple and cheap hostel called Pop Guesthouse was great timing. The hostel was good value, friendly staff and clean – but very simple.
You can find the guesthouse prices and availability on booking.com here or Agoda here.
The museum in Trat is really family friendly and interesting. We spend a good hour walking through it and learning about the people and their history. When heading for food, then the night market is a good place.
As with most places, the local restaurants are cheaper than the ones catering to tourists. We had Pad Thai (fried noodles) and a drink for 40bath/head in a local place and it was a great experience too!
One thing you should not miss while in Trat is to pop in to a pharmacy and buy "yellow oil". The yellow oil was made by a Chinese/Thai woman and can be seen as a miracle oil. It is similar to Tiger balm and remove itching from mosquitos and sandflies, headache, nausea, stuffed sinuses and sore muscles. We bought several bottles (100 baht for a "big bottle" and 80 baht for a roll on), and use it daily. Worth the trip to Trat alone! Make sure you get the original oil, which has a small green on white tree symbol on it. Pharmacies and the museum have the original.
The Chinese temple in Trat in all its colors
​Moving on
Next morning we took a big taxi from Trat to Hat Lek/Cham Yeam – the border crossing to Cambodia – a 1600 baht for the 2,5 hour trip.
You can easily take a tuk-tuk to the bus station and go on a minibus from there for half that price for 5 people (250 bath each). If we were less people we would choose that option for sure. The minibus will wait until enough people are on before it leaves, and that is one main reason we didn't go with that option. Travelling with children you want to have the transitions as fast and smooth as possible and we had heard stories about hassles at this border crossing… You can read more about border crossing tips ​here.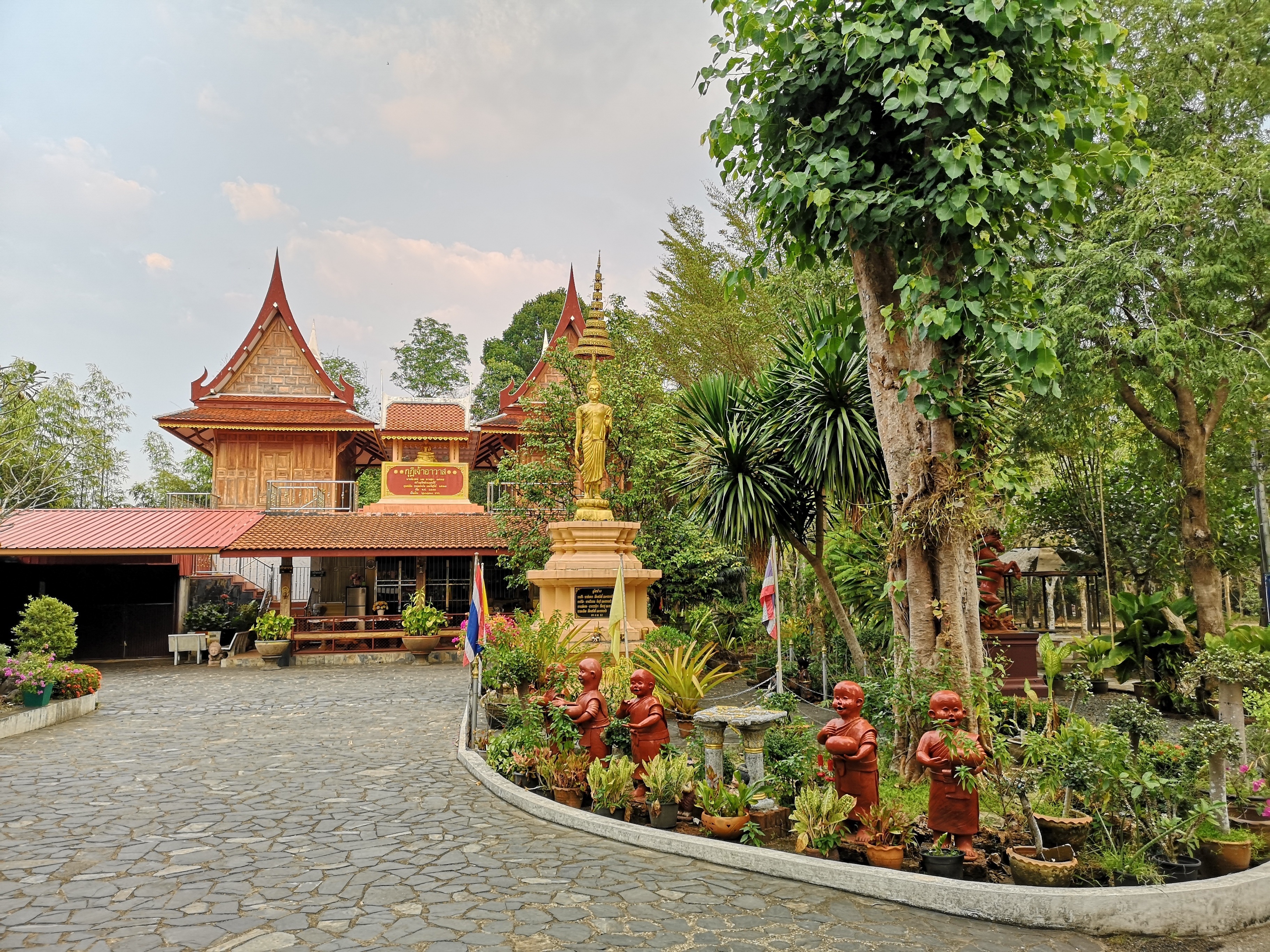 Wat Buppharam temple in Trat, Thailand
​Travelling tip
When we go somewhere on these kind of trips we often book a couple of nights online and then if we want to stay longer we either stay at the place – often with a better rate – or find a better option.
We do not do it if it is peak season or a big holiday time, then it is safer to book the nights you are planning to stay.
The reason why you can get a better rate if you extend your booking while there is that booking sites charges 15-20% for all bookings to the hotel. So by booking directly on the hotel´s website, calling them or just extend the booking you can often negotiate a lower rate.
Pretty in Pink at the nightmarket in Trat, Thailand
​From Bangkok to Cambodia Conclusion
One thing I really like about Thailand in general is the safety. I have not once felt scared or unsafe. Thais are very friendly and non-aggressive is my impression. And they love children. Thailand is very easy to travel in as a family.
Prices are often up for negotiation and you might want to negotiate.
The main roads are new from Bangkok to the Hat Lek border crossing and it is comfortable and easy to travel to the border.
Give yourself time to land before next move. We have decided if we have a couple of days of sightseeing and experiencing things, we will stay an extra night, just to stay grounded and at peace. It is so easy to just jump from place to place since there is so much to see and such a large world… Give yourself time! Travelling should not be stressful. Conscious Travel is to take care of ourselves too!
Please share your experiences of travelling in the area or ask any questions you have in the comments below!