Sihanoukville is the port to many of the paradise islands of Cambodia. The city itself has miles of white sand beaches which are packed with hotels, restaurants and activities in all flavors. But, the city is changing into the unrecognizable the last couple of years. And will not be the same again. What has happened with Sihanoukville? What can you expect more of?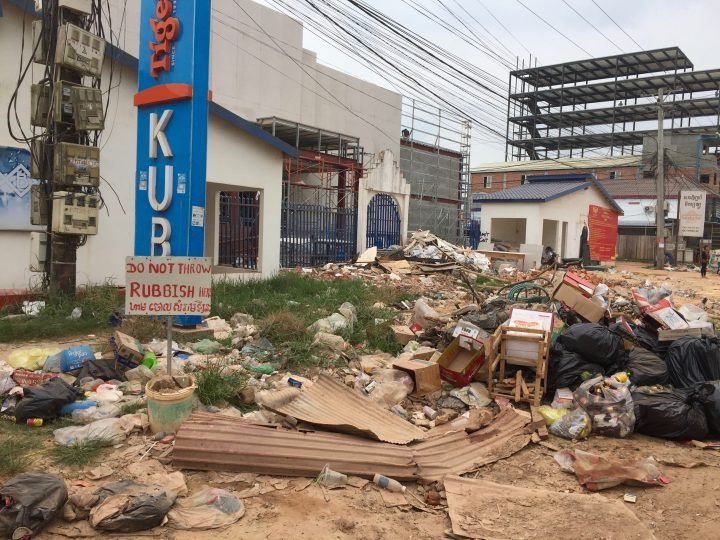 Otres village building chaos
​What has happened with Sihanoukville?
Like much of Cambodia, Sihanoukville faces serious challenges as the government sells off land, including parcels of national parks, to private Chinese developers. Each month new hotels, casinos and buildings are built, raising the prices for the Khmers (Cambodians). From what we have heard the Chinese have bought most properties they get so these days you cannot rent a house cheaply, leaving both long-term travellers and Khmers out of living options.
In other words, there is no Cambodia left in Sihanoukville.
The once-sleepy beach town of Sihanoukville has been transformed by Chinese investment – and the sheer speed of development has divided locals and is filled with casinos and skyscrapers. These towering skyscrapers and vast domed structures covered in flashing neon signs have transformed Sihanoukville beyond recognition in less than two years. It had more than 70 new skyscrapers at the end of 2018.
The southern coast of Cambodia is now home to $4.2bn worth of power plants and offshore oil operations all owned by Chinese companies.
Street in Otres, Sihaoukville, Cambodia
​The new locals
Some estimates say that the Chinese make up almost 20% of the town's population. The speed of development has left many locals unnerved and fear has fuelled rising hostility among locals towards the Chinese residents. The two communities live side-by-side in Sihanoukville but rarely interact.
For the locals, this ongoing transformation is divisive. Some are benefiting from an influx of money the city has never seen before, but many are being driven out by the skyrocketing cost of living. Many are loosing their jobs, make less money but have to pay more in rent. Some say that rent has tripled over a couple of years alone.
The worst part of this is that very little of the development serves Cambodia and its citizens. The Chinese brings everything from China – tools, building materials, workers etc. From what we hear, leaving Khmers even more poor and outcast from their own town.
Many hotel owners do not know when they will be kicked out of the rented land.
Even our host at Koh Ta Kiev island – who run Nak´s Shack, which is a family run Khmer place – rents the land from the Chinese and the military.
Even if we did not experience anything ourselves, they say that crime has increased as well with the developmental explosion of the city. A local tuk-tuk driver told us that the Chinese mafia is also heavily present and influential in its own ways…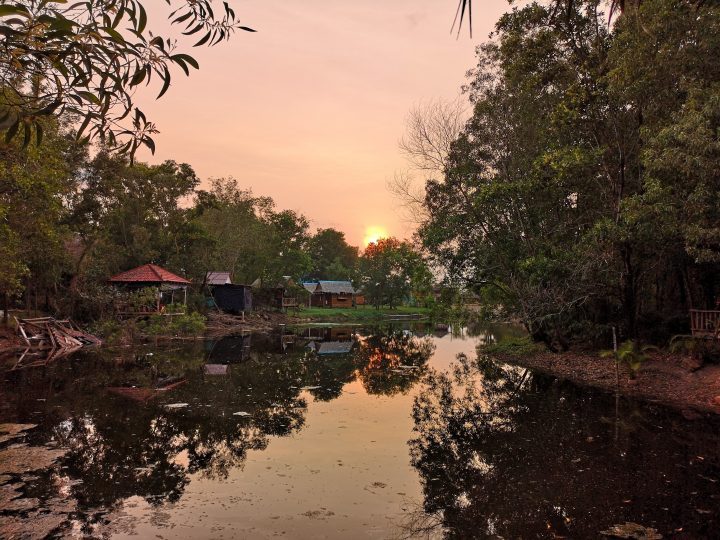 Sunset at the Mangroves & More Restaurant
Chinese New Year in Sihanoukville
If you are not interested in Chinese packed streets, 3 days and nights of fireworks, carnivals and loud music, stay away from Sihanoukville over the Chinese new years. They say the tourism increase with over 54% in that week, to slowly go back to normal. Many westerners flee to the islands where less Chinese go during their celebrations. Chinese new year is often beginning of February.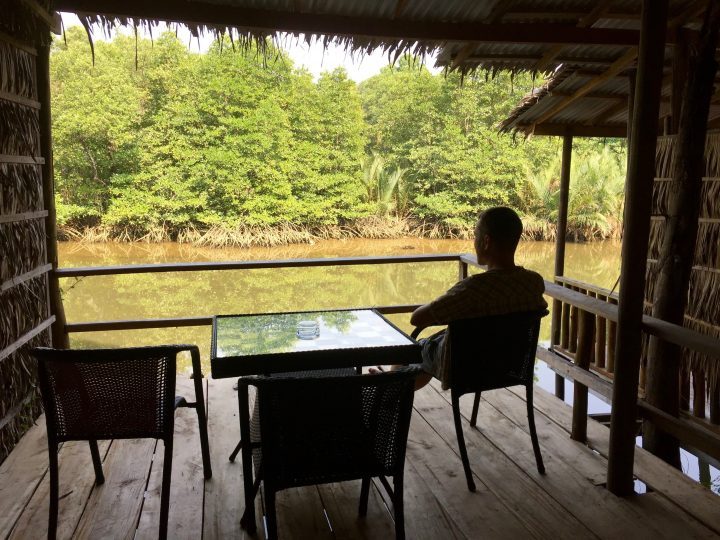 Terrace at Mangroves and more Otres Beach
​Where did we stay?
So, what did we do in Sihanoukville? We spend a couple of nights there, more specifically Otres beach. Otres beach is only one of many white sand beaches in the area and it is supposed to be one of the more quiet ones.
Travelling as a family we are not interested in the night parties and crowded places, but enjoy a good night sleep in silence. We did the backpacker thing in our 20´s. So to be totally honest, it makes me feel really old hanging with the 20 year olds. We are not big drinkers either and have responsibilities for our kids, so…. Anyway….
We stayed at Mangroves and More by the river in a simple and rustic family room with 3 double beds. It had a terrace over the river where we could sit and enjoy the full moon at night. It was really quiet and peaceful. The negative thing with this place was the cleaning, or lack thereof. It had spider webs in the ceiling and the bathroom could need a proper scrub. But other than that it worked well – especially for the price. It had 3 fans and mosquito nets too.
The food in the restaurant was amazing! And it was beautifully decorated with great view of the river and sunset. We could consider coming back just for the food. The fresh passion fruit juice, pizza, banana flower salad, you name it. They were great for vegans/vegetarians too. They replaced with tofu if you asked, so some proteins for Oliver!
You can find the hotel, prices and availability on booking.com here or Agoda here.
The owners of the restaurant also run next door Sok Sabay Resort, which we also checked out and this is in another category of style, luxury, comfort and cleanliness. It was really nice and even had a small pool. This is of reflected in the prices and they only have 2 person bungalows, so it specifically caters to couples. If this is more what you are looking for, you can find availability and prices on Booking.com or Agoda.
​Backdrop to the beach in Otres, Sihanoukville
​Our experience of Otres Beach
In the morning we walked to the Otres beach. It took maybe 15 min. through the Otres Village. The road is not paved, so it is a bumpy and red dusty drive in car. The new large constructions were everywhere leaving us feeling sad on behalf of the land and country. The beach itself was very empty and beautiful. But the building noises made it a little difficult to fully enjoy. Our guess is that these enormous hotels will be ready to cater to the Chinese market from 2020 and this will likely change the scene dramatically…
We went to find something to eat and ran into a couple from London we had met on the bus the day before. They were heading to Koh Ta Kiev, an island without wi-fi, only electricity in some places and/or for a few hours. We felt intrigued to go, but as we need internet it wasn't an option, or so we thought… After they left with the boat from the beach – where you have to walk in the water to get on the boat – we went to buy something to drink in a store.
In the store talked to a guy there who owns a boat about a place to stay for a few weeks. He knew the islands well and carefully asked us what we were looking for. He said that Koh Ta Kiev would be the best match and when we objected with the lack of internet connection, he even knew a solution for that. He told us if we bought a Cambodia sim-card with the provider Smart and then you get a dataplan on it you get really good reception on the island. Turns out that on the island, with your phone you have 4G, while in Otres you only have 3G. It is even relatively cheap, as well.
Our new boatman-friend is a friend of Nak, the owner of Koh Ta Kiev Bungalow, so he called Nak, who gave us a good deal if we stayed more than 2 weeks.
We felt such a joy about our choice. Not knowing what to expect. But our intuition said it was good. For us Sihanoukville was the gateway to paradise, through a place that in some ways felt like hell…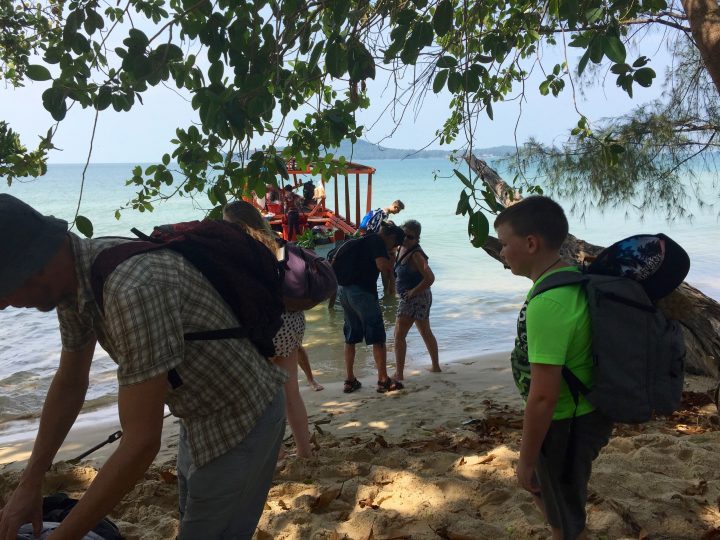 Arriving on Koh Ta Kiev
​Conclusion of Otres Beach
To summarize, Sihanoukville has lost its charm it once had, but it is still a port to the paradise islands. Our nr 1. island is Koh Ta Kiev, which you can read more about here. You can also read here about what to know before you leave to this undeveloped island.
Have you experienced the explosive changes like in Sihanoukville? Please share your experiences with us in the comments below!