​This is an edited excerpt from the book "Goodness, Grace & Great Thought on Fire – how to embrace the 7 billion shades of You" by Susana Mei Silverhøj. The chaper called: Ask and you Shall Receive.
In April 2014, my family and I left Denmark to follow our dream and move to Costa Rica—to live in paradise, a life of Pura Vida.
People keep asking: Why Costa Rica? I wish I knew the whole bigger picture of the divine grace of life so that I could give you an answer. But for now, let´s start from the beginning, and maybe one day I´ll be able to answer. However, this is what I do know: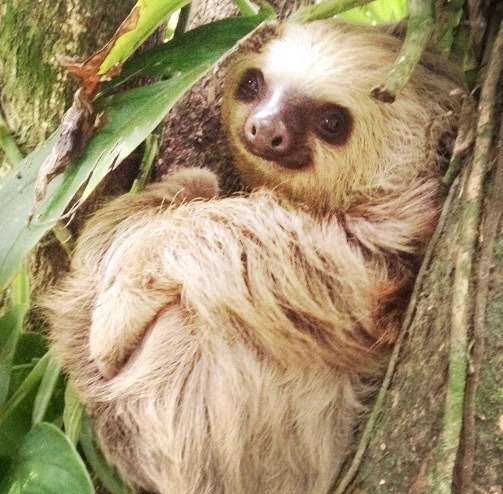 Sloth at hotel La Diosa, Cahuita, Costa Rica
​The Vision
About twenty years ago, I had a vision. I saw this image of myself standing on the top of a small hill looking down to the beach and ocean. I knew there was a white house in the background—or rather a mansion—but what caught my eye was the nature surrounding me. There were palm trees, colorful flowers, and bushes all the way down to the beach. I had never seen anything like it in real life. When I asked my galactic counsel where it was, the only word that came was: Caribbean. I knew I would live there one day.
The years passed after this vision, and I met my husband, had kids, finished my degrees at the university, and taught at the university, etc. Life moved on, and I forgot about the vision.
Then in 2011, my good friend in Stockholm told me her brother was moving to Costa Rica. Boom! It was like someone hit me in the stomach. That´s where we were supposed to live! I went on Google to check it out. On the Costa Rica map, it showed that it was part of the Caribbean. Lucky me!
I wonder what would have happened if there was no Caribbean coast in Costa Rica. Would I have dropped my intuition to go on with my ordinary life as so many times before?
To cut a long story short, with lots of help from divine grace, we put money, babysitters, and time off work in place, and at Easter 2012, we went to Costa Rica for the very first time. It was just my husband and me on a romantic trip; we had eleven days in total to find out if my vision was real. Did that specific nature exist? I had never seen it before on my travels.
Sunset at hotel La Diosa, Cahuita Costa Rica
​First Costa Rica Visit
While driving toward the Caribbean, we sat with the Lonely Planet checking out hotels by the Caribbean coast. Two places stood out (gut feeling): The hotel La Diosa and The Goddess Garden. We went to a few other places first, but they were either full or not open. At La Diosa, the owner greeted us. A few minutes later, we were friends and had a nice room with a view to die for. The nature looked just like that in my vision. Palm trees, colorful flowers, and bushes in front of the ocean. No buildings at all fifty meters from the shore. Paradise.
Driving down the coast a few days later – especially south of Puerto Viejo and north of Mansanillo – something happened with the energy of the place. It was like I entered an energy belt of pure love and goodness. I loved it. Every time we passed through this belt, I almost cried. I felt so humble, grateful, and blessed. What powerful places Mother Earth keeps for us. Til this day, Punta Uva area is my all time favorite. These experiences made me want more of Costa Rica.
Copenhagen view from Round Tower
​Disasters in Denmark
Back in Denmark, we were determined to move to Costa Rica. We were willing to do whatever it would take. The galactic counsel told me to quit my job—a job that I loved. So I gave up my fulltime position as an associate professor at the University College for Nutrition and Health, we started our new business called Holistic Life Academy, and I wrote a chapter for a book, etc. There was a lot of flow, and we really felt that this was the right path. We would create web courses so we could live wherever we wanted. Or so we thought. Life wanted differently, however.
Suddenly, everything just stopped. All the projects we were doing just died within a month. We went from ten different active projects to zero. We just stood there, feeling like fools. I felt angry at the universe, at myself, and life. If we were not supposed to do this, why did you guide us to it? Why did you bring all these people to us, wanting to collaborate? Why? It made me very confused. How could I trust the universe or my intuition after this? I was so wrong about it all. Or so I thought.
To add to the disasters, I was diagnosed with fibromyalgia and was in constant pain for over six months. I'd rather give birth on a daily basis than feel the fibromyalgia pain I had. The doctor's verdict was: Take antidepressants; there are a lot of suicides connected to fibromyalgia. OMG. Thank you. Can I please die now instead?
I went from feeling strong, vibrant, healthy, and powerful to a nobody. I had no job, no career, was a lousy mom, lousy wife and friend, and worst of all—all the dreams and visions I had were bullshit. They were not real. We didn´t make it to Costa Rica. I had felt so strongly that we were to leave around Easter 2013. But instead, all our dreams fell apart, and it felt like we were living in hell. Everything and everyone were against us. Denmark was throwing us out—everything just went "wrong." Or rather, not as we wanted it to be.
We started asking ourselves: What do we really want? (Always a powerful question).
My husband and I sat in silence and tapped into this question. We came up with the same image in our minds at the same time. Oliver (my husband since 2003) managing La Diosa. At this point, we didn´t think the current management needed any help, so our interpretation of the image was that La Diosa was a symbol for the lifestyle we wanted. We wrote to the owners of La Diosa the same day asking if they knew about any job opportunities. The point was that what we wanted was to live in Costa Rica and build our lives and careers from there, not to work in Denmark to get enough money to move to Costa Rica.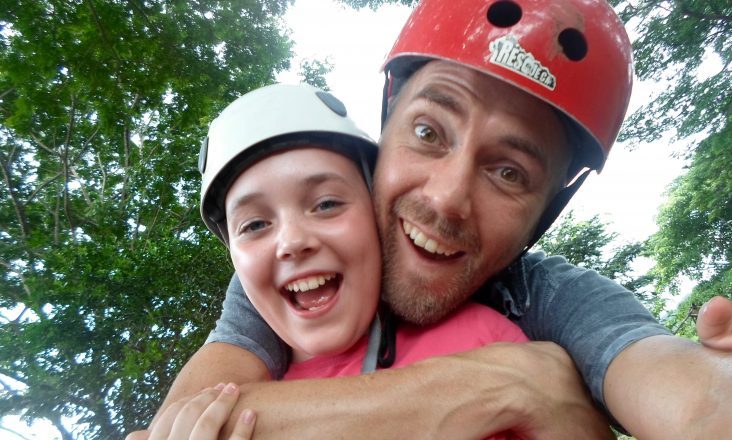 Ellice & Oliver ziplining in Costa Rica 2015
​Vision Accomplished
A month later we had a Skype call with the owners of La Diosa. They asked what we wanted to do in Costa Rica. We told them about our thoughts, being managers at a hotel or something like that. Their reply blew our minds. Five weeks previously they had started talking about not working so much and having others manage one of the hotels. They thought of us.
Before Christmas 2013, we were asked to become managers at La Diosa. We left during Easter 2014.
In August 2016, the dream of Costa Rica was completed for the kids and me. The last night before our flight home to Denmark, the owner saw the painting I had made ten years ago of the vision I had had. We realized the place in the vision was La Diosa. And what totally blew our minds was that the Buddha statue I had painted was at the hotel ten years ago as well. Not anymore! Talk about magical spookiness!
Who says dreams don´t come true? We are creators of the universe, and this is just one example of the truth of that. If it was predetermined or created, which comes first, the hen or the egg? Does it matter? Do we want what we want because life is created beforehand, or do we create it as we go along? I believe that the visions I have had over the years are me tapping into the energy of a possible future already existing in another timeline. So my "job" is to hold the frequency this future exists in so it can manifest in my current reality. Although, more importantly, we shouldn't give up on our dreams when they don't happen the way we planned. When we focus on the goal and let the universe figure out the how, we save ourselves so much hassle and suffering. That was the biggest lesson for me in this story.
There were such great gifts in this whole Costa Rica experience. And the biggest on of all was: all is well. Trust the universe to give you the perfect opportunities for expanding your consciousness, no matter whether we judge the experiences as good or bad. Looking back we'll see the perfection. Trust that. We do not have to know or understand. But trust that one day you will see the divine perfection of your life.
Keep asking for what you want, and you shall, by universal law, receive what you want or even better.
Was living in Costa Rica the paradise I dreamed of? Probably not. We cannot escape ourselves. The surroundings are Pura Vida were paradise for sure. But my inner struggles were the same. My desires were the same. I wanted to experience what life is all about. I wanted to laugh more. I wanted to live life to the fullest. I wanted to feel fully alive. I wanted a magical life. I couldn't blame the surroundings anymore. Now it was all up to me to get the life I wanted. Not by doing but by being the essence of what I wanted. To fully feel, live, and enjoy life, just as it is.

​Conclusion
​One thing is sure, life never turns out the way we think it will. But, it will, ALWAYS turn out for the highest good. So enjoy the ride! 😉
​If you are interested in reading more stories from Costa Rica, you can buy the book Goodness, Grace & Great thoughs on Fire here.
Post a comment below and share your story and visions!